Matamec Welcomes Breakthrough Discovery
Matamec's Kipawa Deposit contains Holmium, the Heavy Rare Earth Element Essential to New Storage Technology that Allows for 1000x More Data to be Stored than Ever Before

Montréal, March 15, 2017 – Matamec Explorations Inc.
("Matamec" or the "Company") (TSX-V: MAT, OTC-QB: MHREF) welcomes the recent discovery by a team of nano-science researchers, mainly from IBM's Almaden Research Center in San Jose, California, of the ability to store one bit (1b) of data on a single holmium (Ho) atom. The breakthrough findings were published in the peer-reviewed journal Nature earlier this month (cf. Nature, vol. 543 pp. 226-228, 9 March 2017).
The researchers were able to use a single holmium atom as the "world's smallest magnet," and by passing an electrical current through the holmium, they can turn it "on" to a state representing the "1" of the binary code, or "off", which represents the "0" state.
The researchers basically demonstrated that two magnetic holmium atoms could be switched on or off independently, even when they were separated by just one nanometer – a distance one millionth the width of a pin head. With so little space needed to store data, the discovery could lead to the creation of radically smaller hard drives and data storage systems with much greater capacities for storage – about 1,000 times denser than today's hard disk drives and solid state memory chips.
Holmium (Ho – atomic number 67) is a heavy rare earth element (HREE) that is part of the Lanthanide series of elements. Matamec's Kipawa Rare Earths JV, its flagship project being developed in partnership with Ressources Québec, is one of North America's most advanced rare earths projects. The Kipawa deposit features light and heavy rare earth elements (REEs), and is enriched in heavies, including holmium. The project is at the development stage and when in production is expected to produce 31.2 tonnes of Holmium oxide per year on average for the life of mine, as shown in the feasibility study report for the Kipawa Deposit, filed on SEDAR in October 2013. Matamec's Kipawa Project has successfully generated a light and a heavy rare earth concentrate and continues to improve the metallurgical process with research labs and universities, mostly in Canada.
"It's very exciting to hear about this technology breakthrough and to imagine the ramifications for data storage applications," said André Gauthier, Matamec's President and CEO. "As we continue working with leading universities and research centres on several fronts to explore ways to improve the overall project at Kipawa, knowing that there will most likely be an increased demand for holmium in the coming years as a result of possibly groundbreaking new applications certainly is encouraging. Our main objective at Matamec is to develop the Kipawa project to provide a secure North American supply of rare earths, including holmium."
Although it may take time for the many possible commercial applications to come to market, the discovery of the ability to save a single bit of data on a holmium atom represents a quantum leap in data storage technology and offers great potential for computing. An entire computer's hard drive could possibly be stored in a piece of jewelry or sewn into a garment, for example, and smaller data storage devices could greatly improve the evolving "internet of things" applications, where more and more everyday items can be connected to the Internet.
Eliza Ngai, M.Eng, P.Eng, Metallurgist of the Company and Al Hayden, P.Eng, Consulting Metallurgical Engineer for the Kipawa project, are the qualified persons according to the NI 43-101 standard, and are responsible for the technical content of this press release.
About Matamec
Located in Montreal (Québec), Matamec Explorations Inc. is a junior mining exploration company in which activities are based on two main axes of development: gold, and key elements for technologies related to energy with properties containing, among others, lithium (Tansim-owned at 100%), Cobalt (Fabre-100% owned), nickel (Vulcain-100% owned) and rare earths (Kipawa-72% owned by Matamec).
Matamec's main focus is the development of the Kipawa Heavy Rare Earth Elements (HREE) deposit, a joint venture owned at 72% by Matamec and 28% by Ressources Québec (acting as agent of the Government of Québec); Toyota Tsusho Corp. (Nagoya, Japan) holds a 10% royalty on net profit in the deposit.
In addition to the activities in energy sector, Matamec is exploring for gold, with three properties (HMR (1% NSR), Matheson JV (50%) and Pelangio (100%)) located in the area of the Hoyle Pond Mine in Timmins, ON, as well as four in the Quebec Plan Nord region in similar geological settings as established gold-producing mines. These include two in proximity to the Éléonore Mine (in James Bay, QC): Sakami (50%) and Opinaca Gold West (100%).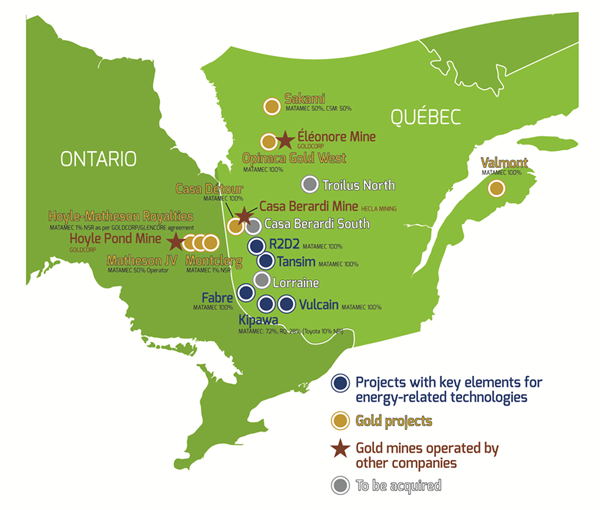 Map showing location of Matamec's Gold and Energy Properties
Forward-looking information
This news release contains "forward-looking information" within the meaning of Canadian securities legislation. Generally, forward-looking statements can be identified by the use of forward-looking terminology such as "scheduled", "anticipates", "expects" or "does not expect", "pursue", "targeted", or "believes", or variations of such words and phrases that state that certain actions, events or results "may", "could", "would", "might" or "will" be taken, occur or be achieved. Forward-looking statements are based on assumptions management believes to be reasonable at the time such statements are made. There can be no assurance that such statements will prove to be accurate, as actual results and future events could differ materially from those anticipated in such statements. Accordingly, readers should not place undue reliance on forward-looking statements.

Although Matamec has attempted to identify important factors that could cause actual results to differ materially from those contained in forward-looking statements, there may be other factors that cause results not to be as anticipated, estimated or intended. Factors that may cause actual results to differ materially from expected results described in forward-looking statements include, but are not limited to, the uncertainty as to whether the Kipawa JV will decide to extract minerals from the Kipawa Deposit, as well as those other risk factors set out in the Company's year-end Management Discussion and Analysis dated December 31, 2015 and other disclosure documents available under the Company's profile at www.sedar.com. Forward-looking statements contained herein are made as of the date of this press release and Matamec disclaims any obligation to update any forward-looking statements, whether as a result of new information, future events or results or otherwise, except as required by applicable securities laws.
Neither TSX Venture Exchange nor its Regulation Services Provider (as that term is defined in the policies of the TSX Venture Exchange) accepts responsibility for the adequacy or accuracy of this release.
For further information, please contact:
André Gauthier, President
Tel: (514) 844-5252
Email:
[email protected]
CHF Capital Markets
Cathy Hume, CEO
T: +1 416-868-1079 x231
E:
[email protected]